Beauty
How to Re-Create Celebrities Hottest Hairstyle's
The Oscar's were filled with some gorgeous hairstyles and looks and we sprung on the opportunity to trial our favourites and show you how to re-create them at home.
Here are our three favourite looks from the evening with simple steps to follow and try for yourself!…
The Textured Chignon-Kirsten Dunst
Curl each section of hair in different directions with GHD's and then brush through to create lose textured waves.
Prep hair with texturising volume spray (by label m) to add hold and volume. Section hair from ear to ear across the top of your crown. Use clips to hold the front section away from the back section.
Take the back section and lightly backcomb it at the crown and smooth over slightly to create some height.
Use a hair band to secure the back section at the nape of your neck. Pull the hair slightly apart above the hairband and pull the ponytail up, in and through the gap you have created.
Lightly backcomb the ponytail, then smooth over the under section. Roll up the end of the ponytail back towards the head into a cylinder shape. Secure with Kirby grips.
Undo the front section and create a side parting. Twist each side backwards and secure to the side of the chignon.
Finally pull out small waves at front for the soft undone look-super easy and super chic!
The sleek ponytail – Olivia Culpo
Prep hair with serum to banish flyaways, section hair and run straighteners through to eliminate kinks and frizz, part hair to the side.
Section off the front third of your hair and clip away from back section.
Using a paddle brush, slick back hair tightly into a ponytail and use a hairband to secure.
Pull the front section with the least amount of hair back towards and under pony tail and secure with Kirby grip.
Take second front section and pull backwards towards ponytail and wrap around then secure with Kirby grip.
Use hairspray or gel (if wanting a wet look) to brush through front and pony tail to make extra sleek.
You could add a ribbon to give it a bit of extra drama
The Hollywood Wave – Emma Stone
Using a comb, part your hair to the side.
Section by section, using a medium to large barrel tong, curl the hair in sections towards your face.
Leave each curl to cool before touching so that it sets in shape.
After curling hair all over, use a brush or comb to brush and tease the curls out to create the "wave"
Spray with hairspray to set and mist with shine spray for that Hollywood dazzle!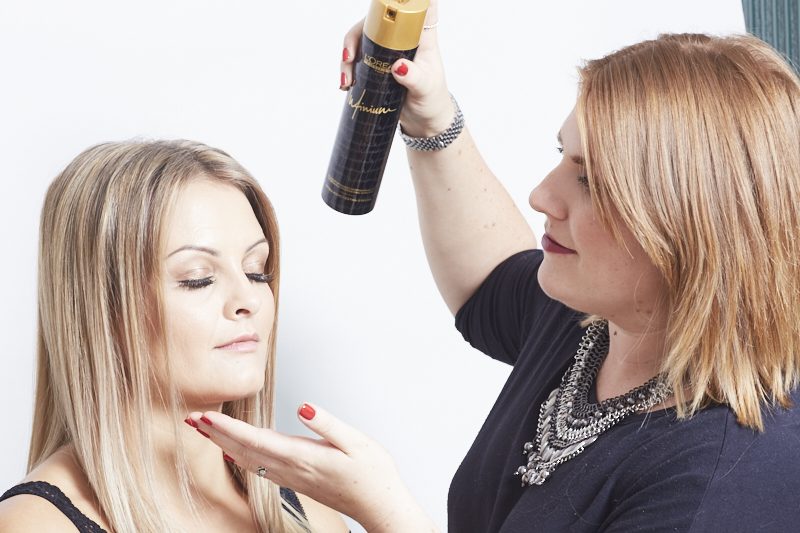 Leanne, owner of boutique style salon group Velvet Rooms, has a passion for bridal hair and is a qualified L'Oreal Colour Specialist giving her the highest colour qualification within the hair industry.
Sign up for The Lifestyle Library Magazine...
Subscribe for free here!
Already a member? Click to login.