Lifestyle
Loafers: The Edit
Forget God, its Gucci you need to thank for this season's rise of the loafer.
Forget God, its Gucci you need to thank for this season's rise of the loafer.
Loafers have always been in Gucci's stable of shoes, and the horsebit detail is an accent we can all giddy up with. We always thought of them as classic, safe shoes that while a stalwart of our wardrobes didn't exactly set our outfits apart from the rest.
But that all changed when Gucci galloped out of the field with their backless fuzzy Princetown loafers, part slipper part slip-on, seen on everyone from Kendall Jenner to Sienna Miller and Instagrammed from London to LA.
And it's not just a summer-fling with the loafer trend; they're here for the long haul. Come autumn, the backless loafer will see you through the cooler temperatures and steer you into winter, when hi-shine metallic and brocade details will be king.
Even heel aficionados can get in on the action with a pair; look for a chunky, block heel and fringe detailing worn with ankle swinging jeans or pleated skirts.
Of course, if you're looking for staying power, you can't go wrong with a classic, black pair, accented with tassels here or gold hardware there. Wear them everywhere – to work with a tailored skirt, brunch with girlfriend fit jeans and a pastel jumper slung over your shoulders or for drinks with a mini and velvet camisole.
So readily ingrained in the fashion map of 2016 are they that every brand under the sun has released their own version. Look to Topshop for metallics, Whistles for classics and ASOS, Zara and Office for all four styles.  If you're going to spend more on a pair, make it a classic – the more plain a pair, the less they can hide lesser quality fabric, so make yours a pair of buttery leather loafers or with luxe details and suede finishing.
Preppy they are but with their masculine edge they're softly sophisticated yet sexy too. Further proof that you should never underestimate a simple shoe…
Here's our pick of the high street's loveliest loafers:
METALLIC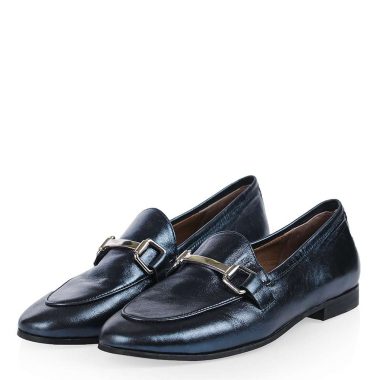 Kurt Geiger Kipper Leather Loafers, £120
BACKLESS
Topshop Kylie Backless Loafers, £49
Stella McCartney Holzer Loafers, £375
H&M Slip-on Loafers, £24.99
HEELED
M&S Collection Fringe Loafer, £35
Mango Patent Heeled Loafers, £49.99
CLASSIC
Whistles Melrose Loafers, £160
Office Destiny Trim Loafers, £68
Russell and Bromley Chester Loafer, £175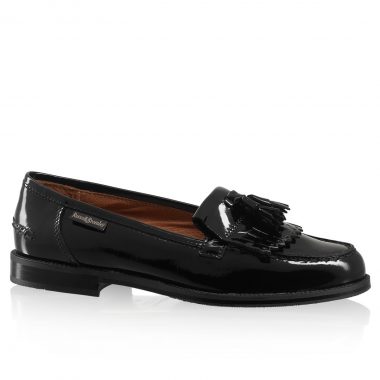 Sign up for The Lifestyle Library Magazine...
Subscribe for free here!
Already a member? Click to login.