Beauty
So long, summer! Six top tips to get your skin autumn ready
As we wave goodbye to summer and that gorgeous tan we worked so hard for we welcome in a fresh new season. Goodbye scorching summer sunshine and hello autumn drizzle, wind and rain. As every new season draws in it's really important to update and refresh your skincare regime and prepare for the harsh winter weather ahead of us.
After a summer of skin damaging sun exposure it's likely your skin will be feeling parched and in need of some special attention. From morning to night, here are five essential tips to help you transition your skin from summer to autumn…
Start your day with hot water and fresh lemon
Adding fresh lemon to your morning cup of hot water will help kick start your day on a hydrated note and the vitamin C hit helps to decrease wrinkles and blemishes. Lemon water purges toxins from the blood, resulting in clearer skin!
Wear an SPF, always
Even though the sun may not be as visible during the autumn months, make sure you still wear an SPF as the sun can still damage your skin when it's not sunny. Clarins' UV Plus Anti-pollution Day Screen Multi-protection is a lightweight, oil-free day screen that shields skin from UVA/UVB rays, pollution and free radical damage.
Hyaluronic acid is your hero
Look out for products that contain super hydrating ingredient hyaluronic acid to keep skin cells plump and skin looking radiant and youthful. We'd recommend ActiDerm Concentrated Hyaluronic Acid Serum as it's proven to hold 1000 times its molecular weight in moisture.
Keep your vitamins up
Anti-oxidant enriched products and products containing Vitamin C and Vitamin E are good addition to prevent breakouts in your regime. Omorovicza Miracle Facial Oil will treat your skin to a cocktail of vitamins including A, C and E plus winged kelp extract to protect collagen for greater elasticity and firmer skin.
Moisturise before you sleep
Before you go to sleep don't forget to apply moisturiser to seal in your products (Serum etc) and hydrate your skin overnight. Invest in a pot of ActiDerm Ultaderm, it combines the latest in plant stem-cell technology, antioxidants and peptides which support each other in revealing a healthy youthful glow when you wake up in the morning!
Treat yourself to a facial
Have a facial once a month at The Chelsea Day Spa with skin specialist Faye Fasan. Her signature facial works wonders! – FFF, 90 mins, £250 at The Chelsea Day Spa HollywoodRoad. This facial is the best of the very best and worth every penny (more details below). Faye says: "I advise my clients to have their routine facials every 2, 4 or 6 weeks. However it really depends on your skin, your goals and your time & budget. If you can't manage every few weeks, I'd insist you have a facial at the start of every season.  This is a great way to remove any stress from the skin that was caused during the previous season and then to prepare & protect the skin for the new season and the new elements it will be exposed to. It's also a good time to review your skin products and change them to suit the season.''
The Faye Fasan Signature Facial at The Chelsea Day Spa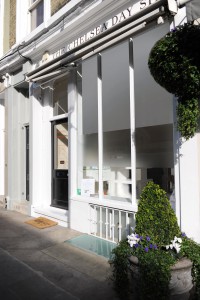 This is the perfect way to treat your precious skin to 90 mins of skin loving bliss by the skin guru herself (she really does know her stuff I promise!) and ensuring its ready for whatever the winter has in store for us.
Faye's signature facial encompasses the beauty and relaxation of a spa facial, the science and technical precision of a dermatologist and the meticulous attention to every pore and square millimetre of the skin that only a superiorly skilled facialist could deliver.
This completely customized treatment is designed to reduce, repair and prevent by restoring healthy skin structure to reveal younger, more radiant looking skin from the inside out. Making it a perfect transitional season facial preparing it for the colder climate ahead and repairing it from dryness caused by the sun. This advanced anti-ageing facial combines the power of HydroPeptide, OxyGeneo and Tripollar technology to deliver a noticeably radiant, glowing and firm complexion with instant and long lasting results.
Another great aspect of Faye's famous facials is how thorough her skincare knowledge is and how she advises on the very best products to use in-between facials according to your skin type and concerns.
Before my facial with Faye my skin was looking a bit dull and grey and I had a few dry patches and breakouts, so I was in desperate need of a facial to bring it back to life! Faye started the treatment with a thorough skin consultation and explained exactly what she was going to do during the facial whilst also advising me on some key products to use to maintain my skin after the treatment. The attention to detail and helpful skin tips meant I walked out of the spa with more than just glowing skin- It was like having a skin lesson too which was so thankful for! Understanding you're your skin needs to look its best is half the battle I think. Faye advised me to use hydrating skin masks once or twice a week as part of my skincare regime as my skin was more dehydrated than usual, she also advised me to drink lemon and hot water every morning before breakfast to detoxify the skin and encourage radiance.
After 90 mins of Faye working her magic my skin was looking fresher than ever, felt super soft and looked very noticeably glowy! One of my favourite parts of the facial was the OxyGeneo '3 in 1' therapy which includes exfoliation, oxygenation and infusion, this helps to immediately brighten the skin and improve texture which it definitely did!
My Hero A/W Products
By beauty writer Jessica Psaila – The Beauty Room
Check out our unique Birdies Beautique special offers including 20% off The Faye Fasan Signature Facial at The Chelsea Day Spa CLICK HERE FOR OFFER
Sign up for The Lifestyle Library Magazine...
Subscribe for free here!
Already a member? Click to login.