Beauty
Summer Skin: Best Tinted SPFs
Ok so the sun is out, (kind of), so it's about time that your skincare and makeup regime reflected the improvement in weather and actively protected your precious skin from the damaging sun-rays. There's no doubt that by refusing to protect your skin will lead to premature ageing and in some cases irreversible damage.
With this in mind, its essential to remind yourself that the sun can still hurt your skin even when hiding behind the clouds- so an SPF is absolutely imperative!
The easiest way to protect your skin at all times, is by swapping your foundation for one with added SPF, or alternatively opting for a tinted moisturiser for extra complexion hydration…
Here are the BEST-tinted SPFs, the only way to insure your skin this summer….

Sarah Chapman Skinesis SPF 30 £44
This skin perfecting product protects skin from UVA, UVB, thermal and infrared radiation. It's full of antioxidants, stem cell active complex and smart light scattering powders to deliver a brightening and youth-boosting base with SPF 30- wear it everyday.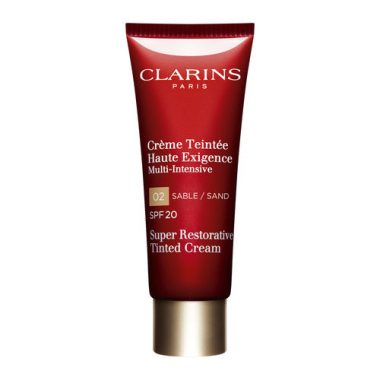 Clarins Super Restorative Tinted Cream SPF 20 £45
Acts like a foundation in coverage, but super hydrating and lasts all day. Skin looks visibly plumped and dewy due to the illuminating pigments- probably not ideal for oily skin but a powder can be applied on top. Remember, just a pea-sized amount goes a long way with this hero product!
Skinceuticals Mineral Radiance UV Defence SPF 50 £27.50
Weightless with 100% mineral filters this SPF enhances natural skin tone and boosts overall radiance- this ultimate skin defence lasts all day and has a high SPF. This product also won the Tatler Beauty Awards 2013/2014 so extra beauty points!
Laura Mercier Tinted Moisturiser SPF 20 £34
Somewhat a cult favourite, this tinted moisturiser came long before BB and CC creams and is still a number one. It delivers a healthy and natural glow and can be used as an alternative to foundation.
Dermalogica Sheer Tint SPF 20 £34.80
A sheer wash of sun protected colour. The light-diffusing Iron Oxides provide translucent colour for radiant looking skin with long lasting coverage.
Sign up for The Lifestyle Library Magazine...
Subscribe for free here!
Already a member? Click to login.