Beauty
Wedding Hairstyles To Match Your Dress
It's wedding season and you've got your dress...here are some hairstyles that may inspire you for your big day....
High Neck or Backless
A high neck demands hair to match. Take note you dedicated followers of fashion: right now it's all about the topknot, as seen on Jessica Biel, Julianne Moore and Kate Hudson. After something more classic for your oh-so-elegant big day? Opt for a sleek ballerina bun or messy French knot. Itching for some edge? Go pixie, if you dare…Off-the-Shoulder or Boatneck
If you're a shoulders-out kinda gal, it's got to be a low bun or a messy French twist to guide the eye to your sexy shruggers. More laidback than ladylike? Relax with beachy waves. Feeling all flower child? Try a half-up half-down do with a slim braid.
Sweetheart
The clue's in the name: it's all about the romantic soft curls if you want to come over all 'blushing bride' with the most popular neckline in wedding world. Alternatively, add some asymmetric interest by sweeping those curls over to one side or going even girlier with a chunky fishtail braid.
Queen Anne
The Queen Anne is the pinnacle of trad princess necklines, all old-school formality and heritage romance. Make sure your hair is up the task with a set of Tonys-J. Lo-style retro waves or a vintage wavy faux bob, or make like the real deal with the Duchess of Cambridge's half-up, half-down big-day locks.
Asymmetric
You're not going to want to take your hair too off-kilter when your neckline's already skew-whiff. Straighten things up with half-up criss-cross hair, work a wob (that's a wavy bob), add some height with a curly bun or let your dress do the talking and pull all your locks up into a high crown braid.

Strappy straight neck
Nothing says 'flapper' quite like that straight neck and spaghetti straps. Channel the Gatsby era with bee's-knees fingerwaves – especially effective for shorter strands – or keep it coy with a classic Gibson tuck. Feeling more beach than ballroom? Take the casual wave up a notch with a waterfall braid or lose some length with a side-parted faux bob.
Bateau or Illusion
Lemme guess: you've gone for a super-cute tea-length rockabilly dress? Squee! If Fifties/Sixties style's your thing try some volume on for size with polished victory rolls or a mini beehive — think Adele or Julia Roberts' timeless looks from the Golden Globes 2013 and '14. Not so into the good old days? Update your look with this season's so-sweet headband updos or a girly grown-up pony.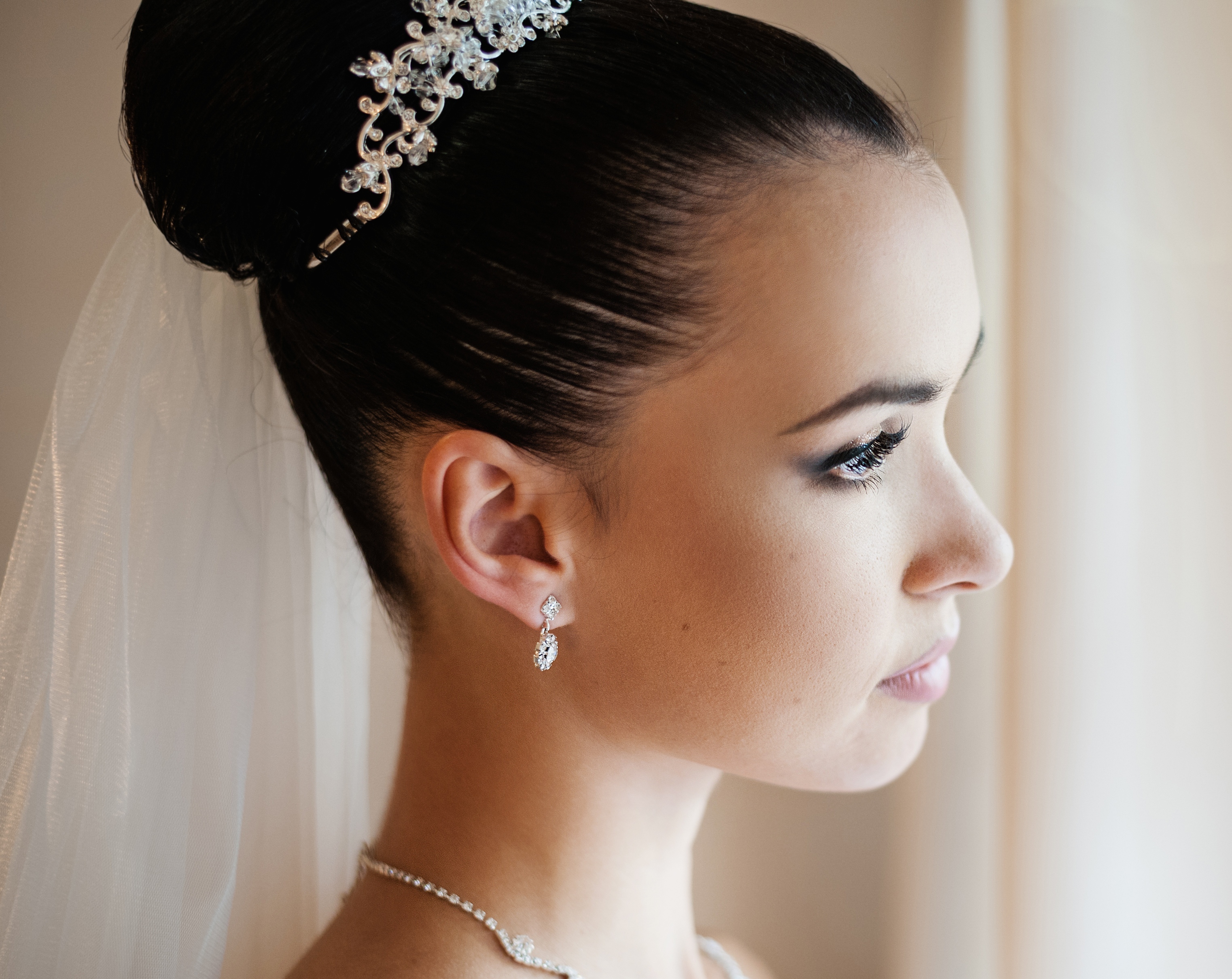 V-Neck
This shape just loves long locks — get yours out with sleek waves if you're going glam, looser ones for chillout-chic or a half-up, half-down do if you're determined to be different to your everyday. Trimmer tresses? Go the other way with it: lengthen your neck (yes, that's a thing) with a rope braid updo for rustic chic or a ballet bun for ultimate elegance.
Cowl
Straight-up sophistication is what the cowl neck's all about, so look to the red carpet for some serious style-'spiration. Side part your glossy waves à la Selena Gomez at the MTV Music Video Awards, work a messy chignon and follow in the supremely styled footsteps of Taylor Schilling at the Tonys or opt for side-swept set curls like our Oscars girl-crush, can-do-no-wrong Miss Emma Stone.
Samantha Birch is the author of The High-Street Bride's Guide: How to Tie the Knot in Style – Without Blowing The Budget, from £2.99, Amazon.
Sign up for The Lifestyle Library Magazine...
Subscribe for free here!
Already a member? Click to login.